"Dad, how does God look like?"

"Mom, if babies are made in heaven, how did i get into your belly?"
You probably have been caught in this awkward and weird situation with your child, or your niece or nephew. Sometimes you wonder why the toughest questions in the world come from them.
Would you lie or would you tell the truth? How would you explain the existence of God or reveal intimate details about two adults living as one as a married couple? How you wish you can Google or Wikipedia the answers to them on the spot.
"Mom, Dad, We Just Bought A Big Car and You Gave Me an iPad. Are We Rich Yet?"
Just as we hear questions about God and intimacy from our kids, honesty is very important in entertaining your child's inquiring mind about money. However, make sure that you only give the information or "truth" that your child can handle at a time. As they grow older, continue to give them the facts.
But sometimes it's hard to hide some facts when parents or elders themselves don't seem to show the real situation to the kids.
Some parents could not handle bigger money when they start to earn more.
They buy the latest car model, purchase two houses on mortgage, brandish the newest Apple product anywhere they go, dine out at the most expensive restaurant in town every weekend, and even give away money or expensive toys to the "already rich" kids (nephews, nieces, neighbor's kids, former classmates' kids, bosses' kids, etc.) during reunions, birthday parties, and occasional gatherings. Just to show off.
Believe it or not, your kids can see all that.
So don't ever wonder when your kids start to ask you the question, "Are We Rich?"
When Times Get Tough
Recession, loss of job, failed business, lawsuits, scammed. All of these happen and it's never easy to recover.
When things start to go wrong, new curious questions pop up from the innocent mouths of your kids.
"Mom, Dad, are we poor now?"
"Why can't we go to the malls these days?"
"Why did you sell my iPad?!!!"
Are We Depriving Our Kids By Not Giving Them The Best Things?
I'm not a perfect parent. But I believe that giving your kids only the things that they need is not an act of deprivation.  You are actually teaching them that life should be about being content with what you need today so that you can have the things that you want tomorrow.
There's nothing wrong with bringing them to a fancy pizza restaurant once a month. Small bonding moments like that are good for them and good for the whole family too. Kids will surely look forward to that precious monthly family event.
Do not deprive your kids with happy moments like that. But involve them in preparing for that one happy monthly family meal by asking them to save a portion of their allowances for them to buy, for example, the most delicious dessert for all to share after the meal. Mold in them the value of relationships with each family member.
Are You A Frugal Parent?
I know a lot of parents feel guilty when they don't give their kids the things that other kids have. But having the discipline on spending as parents will eventually influence our kids' outlook about money and life.
How do we show our kids our behavior towards money and the importance of simple things in life? Let's take a look at the fine print.
1. Do we encourage our kids to bring out the best of their creativity? Instead of buying expensive ready-made toys, can't we teach them to create their own out of pieces of buttons, pins, cloth, candy wrappers, etc.? Are you an "imagination mover" parent?
2. Do you show your kids that you are working hard to earn money? Are you showing in your actions that you don't get everything that you want for free? Don't forget to always tell your kids that even if you work hard to earn money, if you spend it, it will be gone in a second.
3. Do you share with them the simplicity of life when you were young? Do you remember the years when you were a kid? Some of us may remember the times when we were so excited to go to the park with our parents just to go for a walk. You can reminisce all that by bringing your spouse and kids with you in the nearest park. Not the nearest mall. Have a picnic there. Bring a guitar and sing with them. Play with your kids. Be adventurous. Sneak in some small naughty acts by stepping on the grass where the "Don't Step on the Grass" sign is posted. I'm just kidding. 😉
4. Reuse, Reduce, Recycle. Do you throw out old toys, used clothes, empty bottles, etc? Why don't you set examples to your kids by showing them some acts of love for Mother Nature. Go back to No.1.
5. Do you teach your kids to solve problems? When lights in the house break down, do you still look for an electrician to fix it? It's better to show your kids that you as a parent can fix it by yourself without having to spend by bringing in someone else to do it.
6. Communicate to your kids with your lifestyle and daily decisions. It's not easy. But children do listen and observe whenever we parents discuss things such as not using credit cards to buy things that you want, how saving and investing can give us financial independence in the future, or how good the quality of an appliance is that you bought for a cheaper price. When you show you kids that you value your work or entrepreneurship and that you are dedicating that to them, you can expect your kids to grow in frugal lifestyle and simplicity as well.
7. Are you being generous to the less-fortunate without publicizing it? While philanthropy is good, showing our kids that doing good acts without the public knowing it is one of the best ways to teach them about true generosity and integrity. No need to take photos of you with the hungry people and posting them on the social media. Your kids are the best audience of your kind acts. You will be surprised how kids can be motivated when they realize that giving to others is one of the best reasons why they need to save and invest.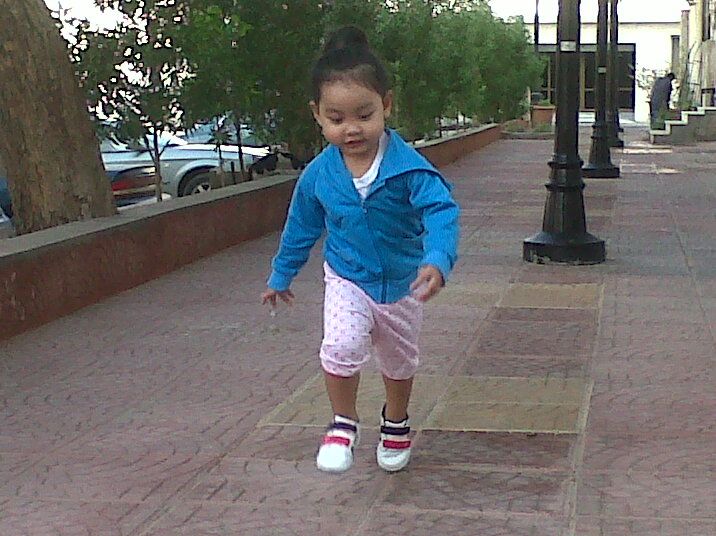 A morning walk with my daughter Isabel Ruru
Follow all my posts this Christmas season for FREE by subscribing to BurnGutierrez.Com
P.S. 1. Bro. Bo Sanchez has appointed me as a coach for our young and new investors at the TrulyRichClub social site. It's a fun, learning family with the purpose of "helping good people become rich". I'm inviting you to join the TrulyRichClub too and email me at burngutierrezblog@yahoo.com.ph if you have any questions. Click here to join!
P.S. 2.  Do you want to learn how to earn more passive income through blogging? Attend our webinar/online seminar "Earning Through Blogging – A Crash Course on How To Build a Profitable Blog" on October 19, 2013, 3PM (Philippine time) with the Philippines' top personal finance celebrity blogger Fitz Villafuerte of Ready To Be Rich blog. Click here for more details.