Browsing through the websites of banks, stockbrokers and even some government agencies, you will sometimes encounter a button that says, "Apply Online" or "Open an Account Online".
Let's look at some samples of what you may encounter when you decide to open an account.
ONLINE STOCKBROKERS
You will be more than enticed to click that button and fill out the electronic form for opening a stock portfolio. You get so excited to start improving your financial life just because you realized that there are "online application" systems offered by banks and stockbrokers.
At the end of the process, you end up with a message on screen that says:

It is quite disappointing that major banks like BPI have to put "Online Application" links on their respective websites when in fact they are requiring the applicant to PRINT OUT the online forms and submit them to a physical branch.
The same story goes with First Metro Securities. Those who already have an existing bank account with Metrobank may open their stock trading accounts through the internet banking facility. But again, you have to print the forms and submit them to designated locations.
This could be one reason why a lot of people, OFWs particularly who do not have the luxury or extra money to send documents via courier, are discouraged from putting their journey towards their financial freedom one step further that they could have easily done by opening an account online.
Why can't banks and other institutions simply say, "Downloadable Application Form" instead of "Apply Online" so they won't have to give false hopes to those who think they will be performing an historic, first ever paperless application process in their entire life?
Okay, I may be very loyal and truly grateful with my online stockbroker COL Financial (formerly Citiseconline), but I wish they can also come up with an online application system where new stock portfolio applicants will no longer have to send forms and documents via courier as a requirement.  Not only will they sustain leadership in the stock brokerage industry. They will also live up to the title of being a truly premier online stockbroker in the Philippines.

ONLINE BANK ACCOUNT ENROLLMENT
Another upsetting experience is adding new bank accounts in your existing online banking account. This process is extremely important for overseas Filipinos who are saving, investing, and sending money separately for the monthly expenses of their loved ones. Instead of paying separate remittance fees for each bank account, an OFW could have just simply do the entire process of adding new accounts in front of his/her computer screen.
In the following illustration, BDO requires those who are adding new accounts to activate Enrollment for Fund Transfer either via BDO ATM's or by printing out, signing, and submitting the declaration form to any BDO branch. Too convenient, huh? I wish I could find a BDO ATM in the middle of the Arabian desert. Or along Sunset Boulevard and Orchard Drive.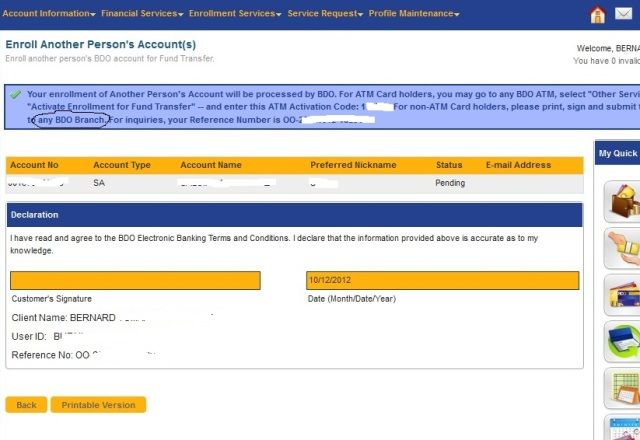 GOVERNMENT AGENCIES, TOO?
I'm not quite sure if applying for Tax Identification Number or TIN is covered under the E-Commerce Law. But assuming I'm on my way to my journey as a full-time investor or entrepreneur who moves in and out of the country a lot and I am required to secure a TIN. I have no one to send to any BIR office and so I try if it would work online via their website. See illustration below: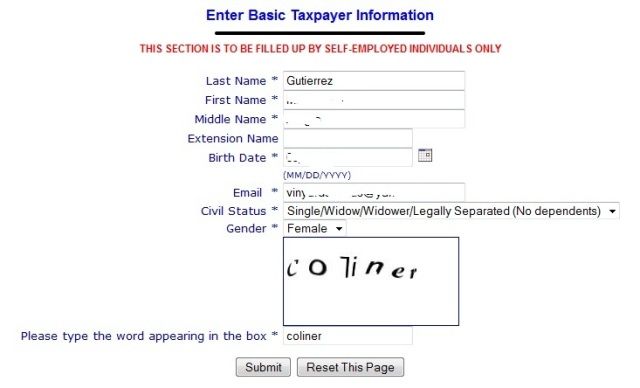 And here's what you will get upon filling out this online form: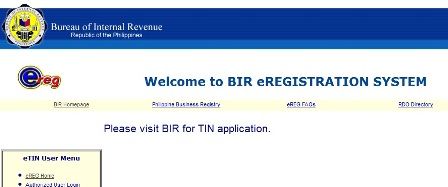 Uh, oh. Neat.
WHAT THE E-COMMERCE LAW SAYS ABOUT ELECTRONIC DOCUMENTS
Again, if my father is still alive, he would be better off helping me out on legal issues such as this. But let's try to understand what RA 8792 or the E-Commerce Law has to say about recognition of electronic documents (which i presume covers those online application forms).
Chapter 2, Sections 6 and 7 of the E-Commerce Law states that;
Sec. 6. Legal Recognition of Data Messages. – Information shall not be denied legal effect, validity or enforceability solely on the grounds that it is in the data message purporting to give rise to such legal effect, or that it is merely referred to in that electronic data message.

Sec. 7. Legal Recognition of Electronic Documents. – Electronic documents shall have the legal effect, validity or enforceability as any other document or legal writing, and –

(a) Where the law requires a document to be in writing, that requirement is met by an electronic document if the said electronic document maintains its integrity and reliability and can be authenticated so as to be usable for subsequent reference, in that –

(i) The electronic document has remained complete and unaltered, apart from the addition of any endorsement and any authorized change, or any change which arises in the normal course of communication, storage and display; and

(ii) The electronic document is reliable in the light of the purpose for which it was generated and in the light of all the relevant circumstances.

(b) Paragraph (a) applies whether the requirement therein is in the form of an obligation or whether the law simply provides consequences for the document not being presented or retained in its original form.

(c) Where the law requires that a document be presented or retained in its original form, that requirement is met by an electronic document if –

(i) There exists a reliable assurance as to the integrity of the document from the time when it was first generated in its final form; and

(ii) That document is capable of being displayed to the person to whom it is to be presented: Provided, That no provision of this Act shall apply to vary any and all requirements of existing laws on formalities required in the execution of documents for their validity.

For evidentiary purposes, an electronic document shall be the functional equivalent of a written document under existing laws.

This Act does not modify any statutory rule relating to the admissibility of electronic data messages or electronic documents, except the rules relating to authentication and best evidence.
Okay. Nosebleed. I don't want to interpret it.
So, Are Banks and Stockbrokers (And Some Government Agencies) Violating the E-Commerce Law?
Honestly speaking, no one cares. Not even me. What's more important for me is that I am served to the fullest by institutions I am dealing with. But personally, I believe most banks and financial institutions (and some government agencies) are interpreting the law the way they want to hear it. For what reasons? I've yet to find out.
With the Cybercrime Prevention and Data Privacy Laws gaining much attention on a nationwide (and global) extent, I do hope that the E-Commerce Law be given equal look by the concerned regulatory bodies.
We just want to make things simpler.
Help me solve issues like this by subscribing to BurnGutierrez.Com
—-
Illustrations and Sources:
http://www.pctc.gov.ph/initiatv/RA8792.htm
https://www.colfinancial.com/ape/Final2/home/HOME_NL_MAIN.asp?p=1
https://www.firstmetrosec.com.ph/
http://www.bdo.com.ph/personal.asp