(Sponsored Post)
I have always been a fan of creative entrepreneurship. And I love Filipino-themed t-shirts. That's why I'll be giving away 2 customizable T-shirts courtesy of Teekals.com! One guy and one girl will win!
(Note: Only Philippine residents are qualified to join. OFW's and overseas-based Pinoys can join the contest provided that you indicate a Philippine address in the shipping details. T-shirts will only be delivered within the Philippines.)
It's simple to join!
(1) Just share this post in your Facebook or Twitter accounts and let me know why you want to win a Teekals "More Fun in the Philippines" customizable t-shirt.
(2) In the comment section of this blog post, create/write down your own first statement to complete the Philippine tourism slogan of "More fun in the Philippines".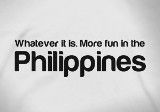 (3) Choose your t-shirt size. See illustration below.

Watch out for the story of Ronald Cabunagan of Teekals.com in my next post!
Subcribe to BurnGutierrez.Com to join future contests like this. It's More Fun in the Philipppines!