One of the best gifts you can give to yourself and your family this Christmas is financial education and an abundant mindset.
If you are an OFW who's going for vacation in the Philippines these final weeks of the year, why don't you or your family members attend these seminars and workshops to equip you with the basics and fundamentals of investing and entrepreneurship?
Get yourself motivated as well by upcoming inspirational events and positive mind-setting sessions.
Check out the following seminar and event schedules of OFW UsapangPiso's partner institutions and organizations for the last part of November up to December this year:
COL FINANCIAL PHILIPPINES

COL Easy Investment Program: Simple Stock Market Investing
Learn how you can build personal wealth the easy way with COL's EIP. This program introduces the use of cost averaging to make investing in the stock market simple, convenient, and affordable for anyone.
Date: Nov 26, Dec. 3, 7, 10, 14, and 17, 2012
Time: 3:00pm to 4:00pm
Venue: COL Training Center, 24F East Tower, PSE Centre, Exchange Road, Ortigas Center, Pasig City
Investing in the Stock Market Today
This seminar will introduce the basic concepts and opportunities of investing in the stock market. Popular approaches of stock analysis will be explained to help guide the new investor in making well-informed investment decisions. This seminar is for interested market participants, with minimal to no market experience.
Date: Nov. 22, 27, 29, Dec. 6, 11, 13, and 20, 2012
Time: 3:30pm to 6:30pm
Venue: COL Training Center, 24F East Tower, PSE Center, Exchange Road, Ortigas Center, Pasig City
FIRSTMETROSEC
5:30 PM at
Makati
Nov. 26 – Monday
Nov. 27 – Tuesday
10:00 AM at Binondo
Nov. 26 – Monday
Nov. 27 – Tuesday
Makati Address:
Training Room – FirstMetroSec 18th Flr., PSBank center, 777 Paseo de Roxas Cor. Sedeño st., Makati City
Binondo Address:
Binondo Investors Center, G/F Wellington Bldg., Plaza Lorenzo Ruiz, Binondo, Manila
This tutorial is open to the public and is FREE-OF-CHARGE.
To reserve, call FirstMetroSec at 859-0600 or email customerservice@firstmetrosec.com.ph
WEALTH STRATEGIES FOR EVERYONE!
A Comprehensive Investment Seminar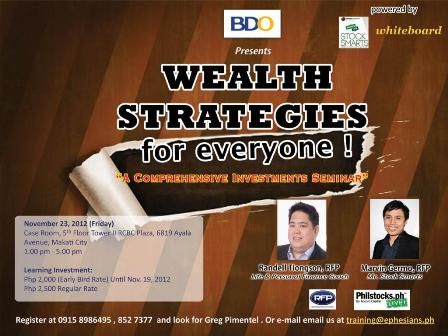 Happening this November 23, 2012 (Friday) at the Case Room,
5th Floor Tower II, RCBC Plaza, 6819 Ayala Avenue, Makati City
1:00 – 5:00 pm.
Our TOPICS will include…
•    Understanding Risk & Return
•    Economic Cycles
•    Understanding Debt & Equity
•    Creating an Investment Portfolio
•    Discussion on Investment Instruments
•    Growth Investments for 2013
•    Hedging and Defensive Stocks
•    Preferred Shares vs Common Shares
•    Capital Appreciation vs Dividends
•    Stock Market Diversification
•    Stock Investing Plan
See poster above for registration details.
KERYGMA CONFERENCE 2012
The biggest inspirational event in the country. There will be 2 plenary sessions where Bro. Bo Sanchez will preach, 14 Streams to choose from, and 42 amazing Speakers—the best of the best.
These Stars—And Their Amazing Stories—Will Inspire You: Pinky Marquez, Cito Beltran, Cory Quirino, Rica Paralejo, Bam Aquino, Chinkee Tan, Roselle Ambubuyog (Blind young woman who became Summa Cum Laude in the Ateneo—sheesh, can you dig that?).
When? This weekend: November 24 and 25. For two gigantic days, God's wonderful blessings will flow to you like a rampaging river, nourishing you, filling you, and healing you.
To get your tickets, buy online at www.KerygmaConference.com now or call Tel. (02) 7259999 or email us at contact@kerygmaconference.com
Be swept by God's Love—and let Him bring your life to where He wants you to go. Elevate your spirit. Embrace your destiny. Change your life forever.
Visit KerygmaConference website for more details.
WEBCAMP – INTERNET BUSINESS CONFERENCE 2012
Make more money online!
Learn to start or grow your online business at webcamp, the Internet business super conference happening on November 28, 2012,8:30am-5:30pm, at Carlos P. Romulo Auditorium, RCBC Plaza, Makati City.
Price : Starts at P995 (regular rate: P2,995)
For more details, click the banner below:
THINK RICH PINOY SEMINAR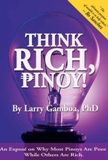 December 8, 2012
Your Passive Income Mentoring Starts Here
OFWs -teach your family the value of money-in a fun way-via this seminar and the board game. Buy your family a couple of seats to this seminar.
Learn from the Think Rich Pinoy Team who's been buying and selling foreclosed real estate for years now in the Philippines! Yes it can be done. You don't need to wait for a "recession" to buy property. Get into passive income now!
What to expect in the Think Rich Pinoy Seminars
Aside from hearing how several young people purchased their first (or 2nd, 3rd, 4th ) properties from the bank at foreclosed rates, complete with pictures, you can expect:
1. Talk 1 – Wealth Management: Are you Financially Ready for the Future?
2. Talk 2 – The Theology of Money: Are God and Money really enemies?
3. Talk 3 – The Technology of Money: Creative Financing
4. Talk 4 – Real Estate Investing: Do the Numbers
5.Talk 5 – Rehabbing Real Estate Properties
6. Talks 6, 7 – Real experiences in buying and selling Pinoy Properties from the actual (young) people who did them
7.The Game of Money: – Cashflow 101 and 202. Play the game for 3 hours with like-minded people, guided by seasoned experts
Check out Think Rich, Pinoy! website for more details.
COLAYCO FOUNDATION FOR EDUCATION (CFE)
Greet the New Year as well with these learning sessions from Colayco Foundation for Education at 75% off!
Contact CFE via SMS 0917 8088857 orCall 6373731 or 6373741.
Click here for more details.
OTHER SEMINARS
I'm still trying to check out our partners Pesos and Sense, Veni Flores, and Jomar Hilario but I believe they are still going through some planning sessions for their respective 2013 events.  In any case, I will keep you on the loop for further announcements.
Meanwhile, I highly recommend that you take the opportunity to attend any of these upcoming seminars and events this last quarter of the year.
Live a happy, abundant life in 2013 and beyond!
To receive more learning updates like these, subscribe to BurnGutierrez.Com
—
Note: Images were used with permission from the institutions and organizations indicated in this post.