The eager-for-knowledge OFW UsapangPiso-Israel group has just wrapped up its first financial planning seminar series yesterday, November 13, 2012 in Protea Retirement Village, Tel Mond, Israel conducted by the energetic personal finance guru, Randell Tiongson. (The first one was held in Tel Aviv last November 10, 2012)
The group's coordinator, Charma de Villa, attested to the gratefulness of the attendees of the seminar for the opportunity and the life-changing experience of taking the first step towards financial independence: Learning.
But since I was not in Israel during the event, let me just share with you a few images of what took place in the land chosen and called by God as Holy.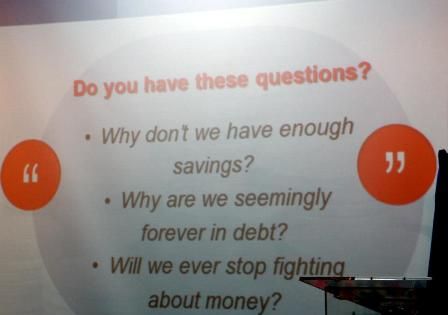 Pinoys/OFW's were asked if they ask themselves these questions.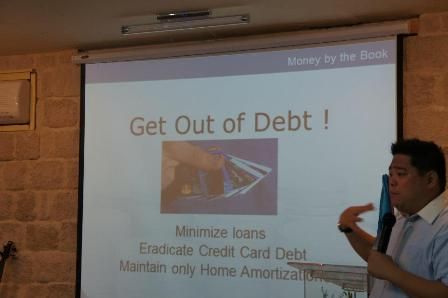 OFW's should start to get out of debt!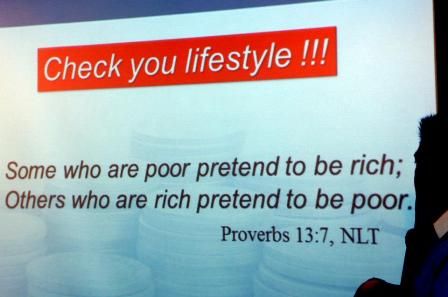 Lifestyle Check: Do you pretend to be rich or poor?

God's Plan: He wants us to be rich. Let us be great stewards and multipliers of His wealth and love.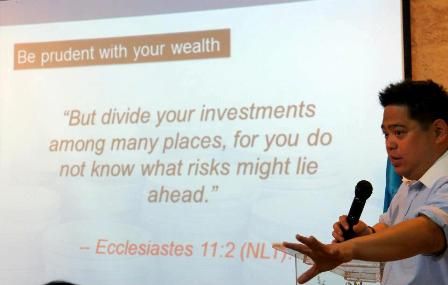 Diversify your investments. Never put all eggs in one basket.

Randell and the OFW UsapangPiso Israel group

Israel's former First Lady, Mrs. Reuma Weizzman, with personal finance guru Randell Tiongson and team

Filipino heroes in Tel Mond, Israel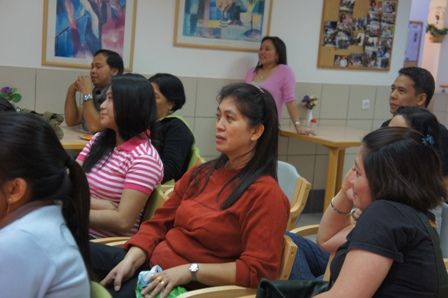 Heroes in Israel



OFW UsapangPiso Israel team at the Protea Village

OFW UsapangPiso Israel team with mentor Randell Tiongson
If you want to see more powerful photos of the OFW UsapangPiso Israel event, you may visit our OFW UsapangPiso Facebook Page.
Volunteer Participant's Testimonial
Dang Boquiren, one of OFW UsapangPiso's volunteers, shared with us her insights and reflections after attending the seminar. Here's what she has to say:
Im tirtzo, ein so ha'agadah….A Jewish proverb which means that if you will it, it is no legend/myth.

This reminds me of another saying that if there's a will, there's a way! And so… if we really want to make a difference in our life, we can start by believing that we can.

And through the personal finance seminar conducted by Mr. J. Randell Tiongson, director of Registered Financial Planning Institute to our colleagues and friends in Protea Retirement Village, Tel Mond, we were able to have a glimpse of a hope for us OFW Caregivers in Israel that all our sacrifices for our family's future is not in vain.

Let's admit the fact that the main reason we are working here abroad is to save money and basically support our family back home. And with the seminar that Sir Randell had made for us about the basics of financial planning. He made us reflect and think about our future and our families as well and use it for our advantage.

In order for us to reach what we want in life we have to learn to have a long term goal. Our objectives should be SMART – specific, measurable, attainable, and realistic and time bound. Through his humor and jokes he has stirred our hearts to reflect on our own life style and to have a desire to improve the quality of life not only for us but for the future of the next generation. By adapting the 30-70 rules, in which we save 30 percent of our income. He also told us to have the willingness to take risks in investing which could be low risk, high risk or speculative. Though we never had enough time to discuss those nose-bleeding terminologies in finance, it paved a way for us to be more interested in learning how to manage, save and budget our money.

And to sum up our seminar, I'll share a verse from Jeremiah 29:11, " For I know the plans I have for you, declares the Lord, plans to prosper you and not to harm you, plans to give you hope and a future".

We feel blessed to be working here in the Holy Land and by having the right mindset on financial matters, may we be able to use this to secure a bright future for our own benefit and for our country's next generation. And we feel honored and proud for having sir Randell share with us some basic knowledge in financial planning.
I'm truly proud that more and more OFW's like Dang Boquiren are starting to realize the value of being God's stewards of His blessings and sharing the knowledge that they have learned from this experience.
I firmly believe that Dang, Charma, Geremieh, and the other members of the OFW UsapangPiso Israel group will soon become new heroes of their families and the Philippines by becoming financially independent in the not so far future.
I am seeing their transformation from being mere OFW's to becoming wealthy OFI's (Overseas Filipino Investors*) giving more glory to God and country.
Mazel tov, OFW UsapangPiso Israel!
To know more on how you can be part of the OFW UsapangPiso experience and advocacy, subscribe to my blogs for FREE on BurnGutierrez.Com
—
Credits:
1) Photos by Charma de Villa
2) *OFI (Overseas Filipino Investors), coined by our OFW UsapangPiso Singapore volunteer Hansen Sy