It took some time before I was able to convince my OFW colleagues to open their first stock market investment portfolio. Every day I send them helpful articles about long-term investing, cost-averaging, fundamental analyses of big companies, and various financial literacy blogs.
Weeks after, they finally made the decision to start investing.
(Do you want to be guided in stock market investing from opening your account up to buying your first stocks? Click this link to help me guide you in your stock market investing journey.)
So how did they do it? What did they do first?
Here are the procedures that my colleagues followed to open their first ever stock market investment portfolio through my online stockbroker COL Financial Group, Inc. (formerly known as Citiseconline)

The COL Easy Investment Program (EIP)
I instructed my colleagues to read first the primer on EIP or the Easy Investment Program in the COL Financial website. It's an 11-slide presentation explaining everything about EIP and how it will work for individuals who want to invest in the stock market but do not have time and enough knowledge about it.
The presentation is very simple and anyone who has the passion and determination to start investing for the future will definitely get an understanding on how this method of investing will benefit her/him.
For those reading this post and are interested to know about EIP, you may go to this link: COL Financial EIP Primer
The COL Financial EIP is a time-tested and reliable investment method convenient for anyone regardless of age, income, or experience.
Opening a COL EIP Account
When my colleagues finally had a grasp of what EIP is, they decided to open an account and went to this link: Open An Account with COL Financial
And then they chose the COL Easy Investment Program (EIP).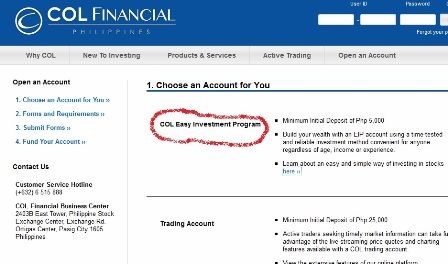 The COL Easy Investment Program (EIP) requires a very minimal initial deposit of Php5,000 only.
From this page, they downloaded the forms (2. Forms and Requirements>>) and checked out the other minimum documentary requirements.
I told my colleagues that it is very important that they fill out the Customer Account Information Form, the Online Securities Trade Agreement, and 2 copies of Signature Cards completely and legibly.
While COL Financial people are friendly and accommodating, they make sure that applicants fill out the forms in an orderly manner and that signatures are consistent in all forms. Be careful on that area of requirement.
Additional Requirements
As a Filipino citizen, you are simply required to submit the following additional requirements:
(1) Photocopy or scanned copy of a government-issued Valid ID (ex. driver's license, passport, SSS ID, senior citizen ID, voter's ID) – photo and signature on the ID should be clear
Billing statement (ex. utility bill, credit card statement, etc.) – name, address and date must be present in the statement – (Note: OFW's may submit their credit card or bank statements in their country of work. Just make sure that the address you wrote on the forms and signature cards is the same as the address indicated in the credit card statement.)
(UPDATE) – The Tax Identification Number or TIN is now required by the BIR so to learn how to get one if you still don't have one, go here.
For those who want to open an account for their beneficiaries or children, you need to submit a copy of their birth certificate. You will also need to sign an In-Trust-For Supplementary Agreement form in addition to the three other forms.
When done filling out all forms, sign on all documents and photocopies of the additional requirements.  Scan all of them and send to the COL Helpdesk via email.
**UPDATE: Additional requirements for Overseas Filipinos starting this November 2015
Since there is a reinforcement of policy that requires personal appearance of those who are opening an account, the OFW investor have two options:
1) Submit an original copy of a Bank Certification that you can request from your Philippine bank that you are their client.
2) Have an online interview via Skype. An applicant will need to show his valid passport to the Customer Account Officer through the webcam. This should be considered as personal appearance.
Review of Documents by COL Helpdesk
COL Financial will then review all the scanned documents that you submitted via email.
If everything looks okay for them, they will then send you an email advice to send all the original forms and documents via courier to their Head Office address:
COL Financial Business Center
24th flr. East Tower, Philippine Stock Exchange Centre,
Exchange Road, Ortigas Center, Pasig City
1605 Philippines
If you have any other questions, you can call their hotline +632-6-515-888
Funding Your Account
Once they receive your couriered documents, you will be provided with the Account Details.
They will then ask you to fund your account with Php5,000. Don't worry. You can already use this amount to buy your first stocks later on.
Remember that you can only transfer funds online to your COL Financial account via BDO, Metrobank, and BPI.
It is important to indicate the COL Account Holder's Name and COL Account Number when making payments to ensure proper and timely credit to your account.
Once you transferred the amount, you can call or send an email to the Helpdesk to confirm if the amount has been credited.
You will then receive an email indicating your username and password.
That's it!
You're now ready to buy your first stocks for your EIP.
Other Online Stockbrokers in the Philippines
For other online stockbrokers, you may check their respective websites and most probably the procedures will all be the same as COL Financial's.
Just Google their company names and you will surely find their official websites. Or you can visit the PSE website for the complete list of stockbrokers.
On my future post, I will teach you how to set up your EIP and buy stocks regularly for the next 10 years and beyond.
Remember that before you invest on anything, make sure that you have a basic understanding on how that particular investment vehicle works.
It's also very important that you observe a frugal spending habit, living below your means in order for your investing program to be successful.
Protect yourself and your family also with a life insurance and a 6-month worth of cash savings for your emergency fund.
Subscribe to BurnGutierrez.Com if you wish to know more about long-term investing in the stock market.
Join the OFW UsapangPiso Facebook Group and visit our AngatPH website to learn how to plan your finances the right way and how to grow your money in various financial instruments and investment vehicles such as stocks, mutual funds, UITF's, bonds, money market, real estate, and others.
Rock your way to abundance!
#moneyliferocknroll
P.S. 1. Are you an OFW who's been looking for a investment placement where your money could grow higher than your time deposit accounts? Are you outside of Metro Manila and would like to start investing in mutual funds but have no personal advisors to help you out? Click here so I can help you open a mutual fund account NOW! .
P.S. 2. Bro. Bo Sanchez has appointed me as a coach for our young and new investors at the TrulyRichClub social site. It's a fun, learning family with the purpose of "helping good people become rich". I'm inviting you to join the TrulyRichClub too and email me at burngutierrezblog@gmail.com if you have any questions. Click here to join!
P.S. 3. My co-author/illustrator Des Feliciano and I have just launched our "The Adventures of Pepot Kuripot and Dora Gastadora" comic book! It's arguably the first and only personal finance-influenced comic book in the Philippines. Order your copy now from our website http://pepotanddora.com and have it delivered right at your doorstep. Or you can grab your copy yourself at The Pantry at 07 in Makati City and ilovemilktea in Las Pinas City. Now available also in Australia, Saudi Arabia, and the USA! Email des_feliciano@yahoo.com for more details.

P.S. 4. If you are based abroad or just outside of Metro Manila and has been itching to learn more on how to jumpstart your business dreams, join me and my friend, serial entrepreneur Ginger Arboleda, as we take you through a series 2-hour webinars (for 11 Saturdays) that will help you focus on the technical skills and specific things that you have always wanted to know about in order to grow your business. We have come up with 10 sessions with 11 expert lecturers (with 1 FREE session if you enroll in the full program) that will make you a stronger and better entrepreneur. Register here to join the Enter Entrepreneurship Webinar Program now!
P.S. 5. Learn How To Make Money From Foreclosed Properties! We are on our 3rd run of the Usapang Foreclosed Property Investing with Jay Castillo of ForeclosurePhilippines.com! Happening on September 26, 2015 at the SMX Aura, Bonifacio Global City. Click here to register and avail the early bird promo!
P.S. 2. We just opened up the enrollment for our "Money Tree System" online program. Read the entire letter as this is a limited opportunity. Remember, the enrollment is open until this Friday, August 29 only. So you better act now if you want to join the "New Rich". Click here to reserve your spot.
P.S. 2. For those who based in Manila, you may attend our FREE Biblical finance seminar on July 27, 2013 at the Rufino Towers, Makati City. Keep posted here for details.