Whether you're a business guru or not, you probably know the importance of finding a good location for your business. An ideal location should be able to satisfy certain criteria such as a steady populace, accessibility, good infrastructure, a well-developed community, availability of basic services and resources, safety, and many others which are all advantageous for business.
If you are an investor with plans to start a business in the Philippines, here's some good news: the country has been able to develop central business districts in key cities and regions, which can be the best choice for your business location. With central business areas meeting the aforementioned criteria, putting up your office in those prime locations means better and higher chances of making your business thrive.
Below is a list of the CBDs in the Philippines, plus some basic information you need to know about each of them:
Central Business Districts in the Philippines
1) Makati
Makati remains unrivaled from among a host of business districts, and for good reasons. The Makati CBD houses a multitude of top local and foreign corporations, major industry players, and even promising startup ventures. Towering buildings along the stretch of the very prominent Ayala Avenue give Makati a bustling corporate feel to it.

2) Ortigas Center
Ortigas Center is undoubtedly one of the most important business districts in the metro, being the convergent zone for Pasig, Mandaluyong, and Quezon City. Business offices, technology hubs, and residential communities within Ortigas Center and nearby areas make it a busy destination every day, especially on weekdays.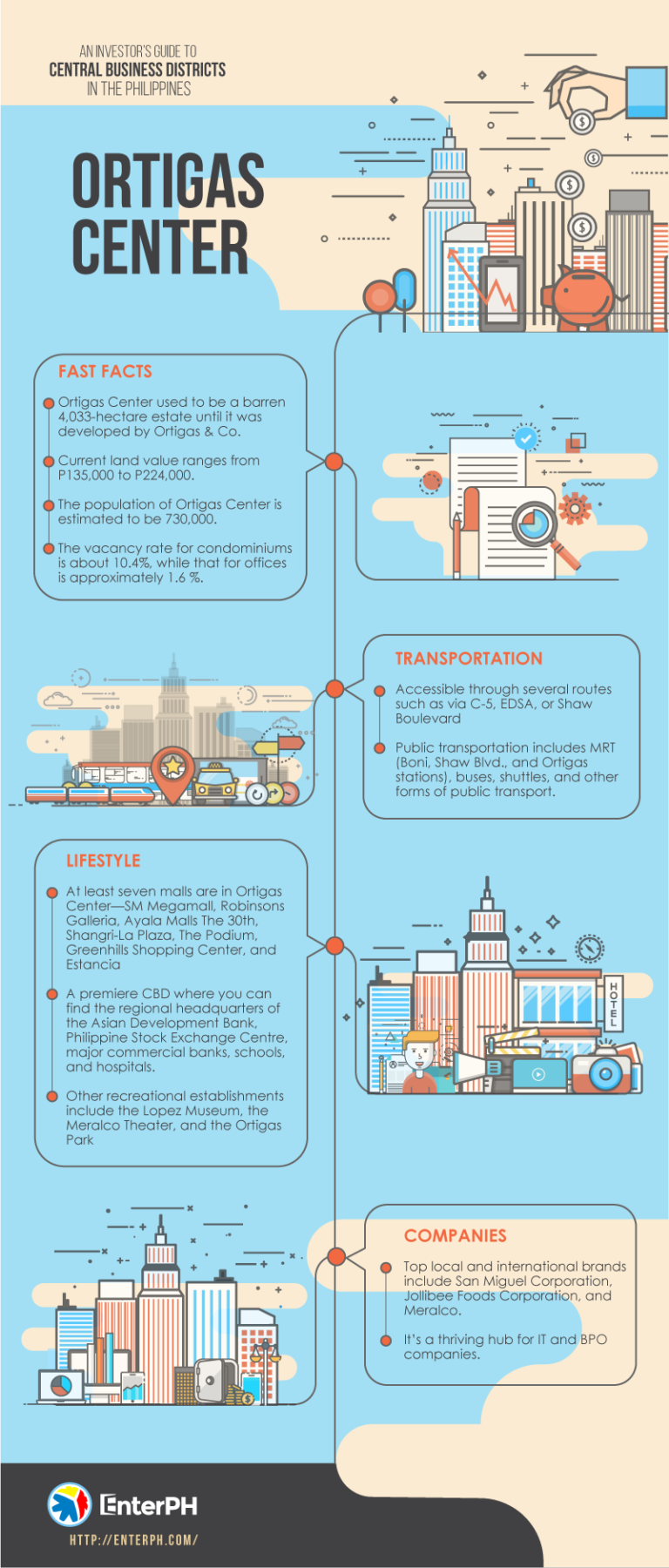 3) Bonifacio Global City
The Bonifacio Global City (BGC) in Taguig is fast evolving as a business district with its sprawling grounds gradually becoming occupied with commercial establishments, corporate headquarters, and prime residential communities. Then again, BGC is also about pop culture and cosmopolitan lifestyle, with a lot of open spaces and an environment that encourages creativity, innovation, and meaningful interaction.

4) Eastwood City
Eastwood City is dubbed as the country's first cyberpark that integrates commercial, residential, and technological facilities and amenities.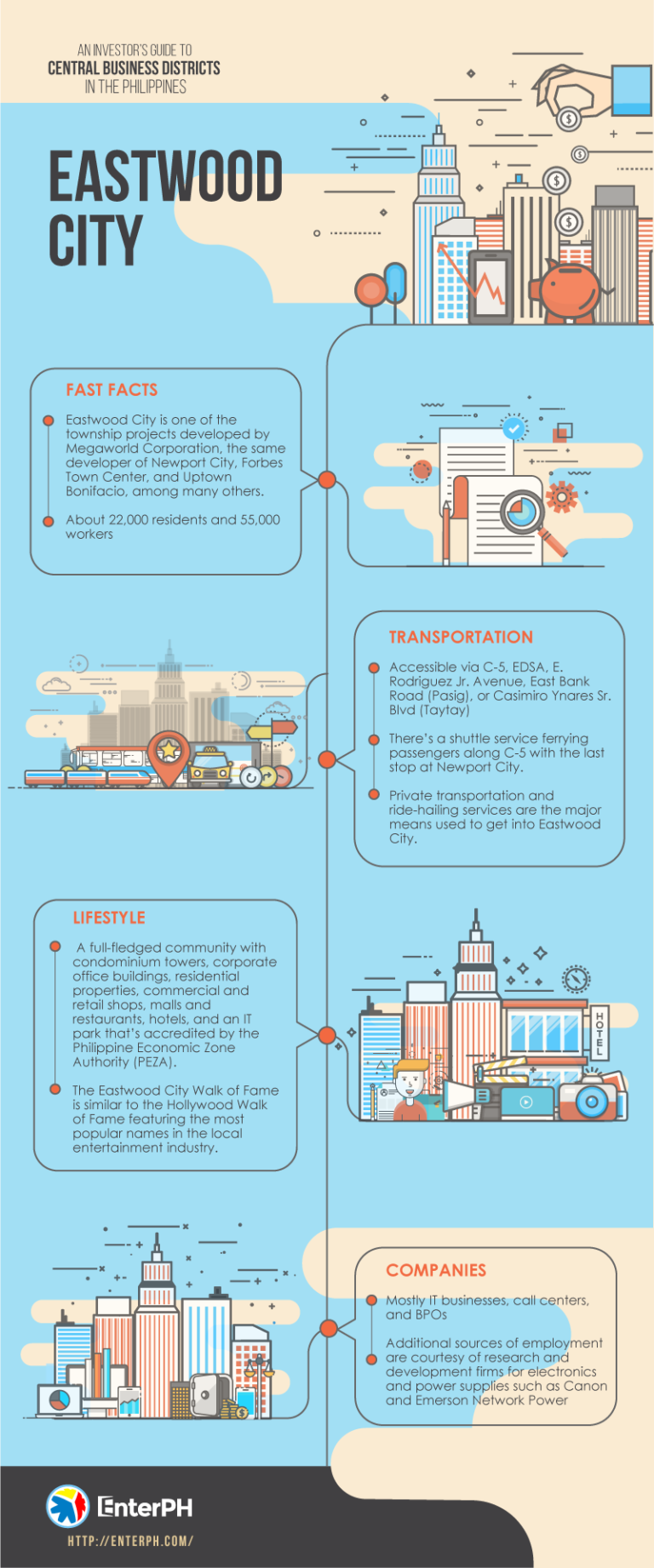 5) Triangle Park (Quezon City)
Triangle Park refers to one of the three business districts of Quezon City, along with Eastwood City and Araneta Center in Cubao.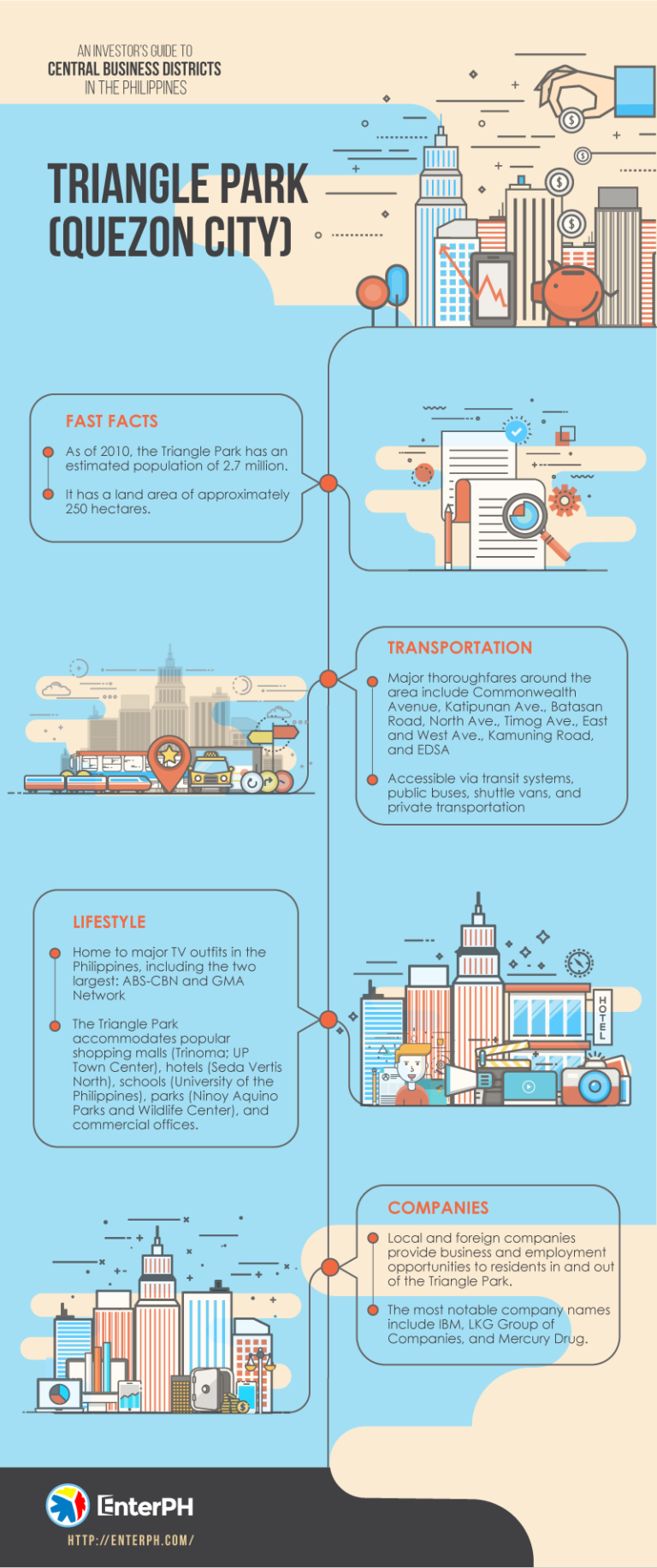 6) Filinvest Corporate City
Filinvest Corporate City prides itself as the model of urban development, where modern living and nature thrive in complete harmony with each other. Thus, there is a balanced mix of projects and developments catering to residential, business, educational, medical and wellness, and leisure purposes.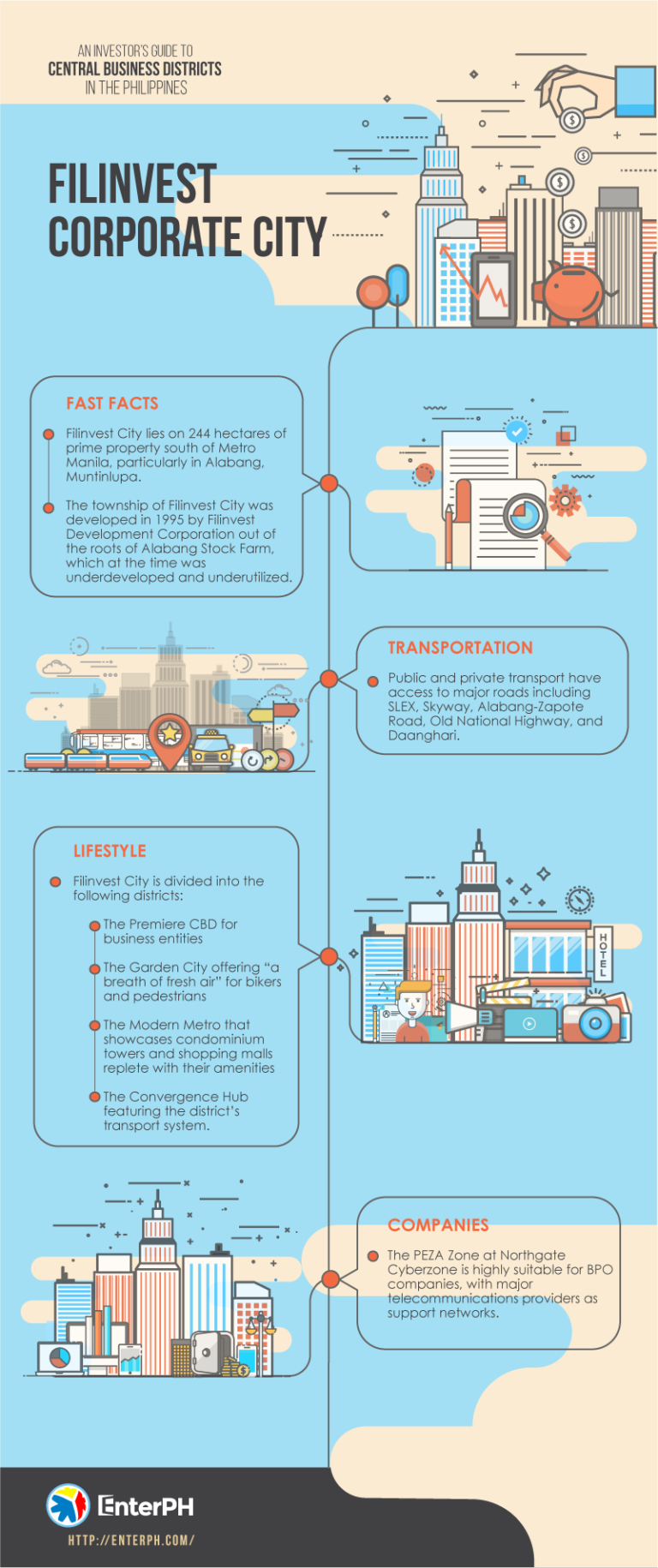 7) Cebu Business Park
Cebu Business Park (CBP) is hailed as the preferred business location in the southern region of the Philippines. The CBP blueprint has facilities available for business, residential communities, shopping, recreation, and sports.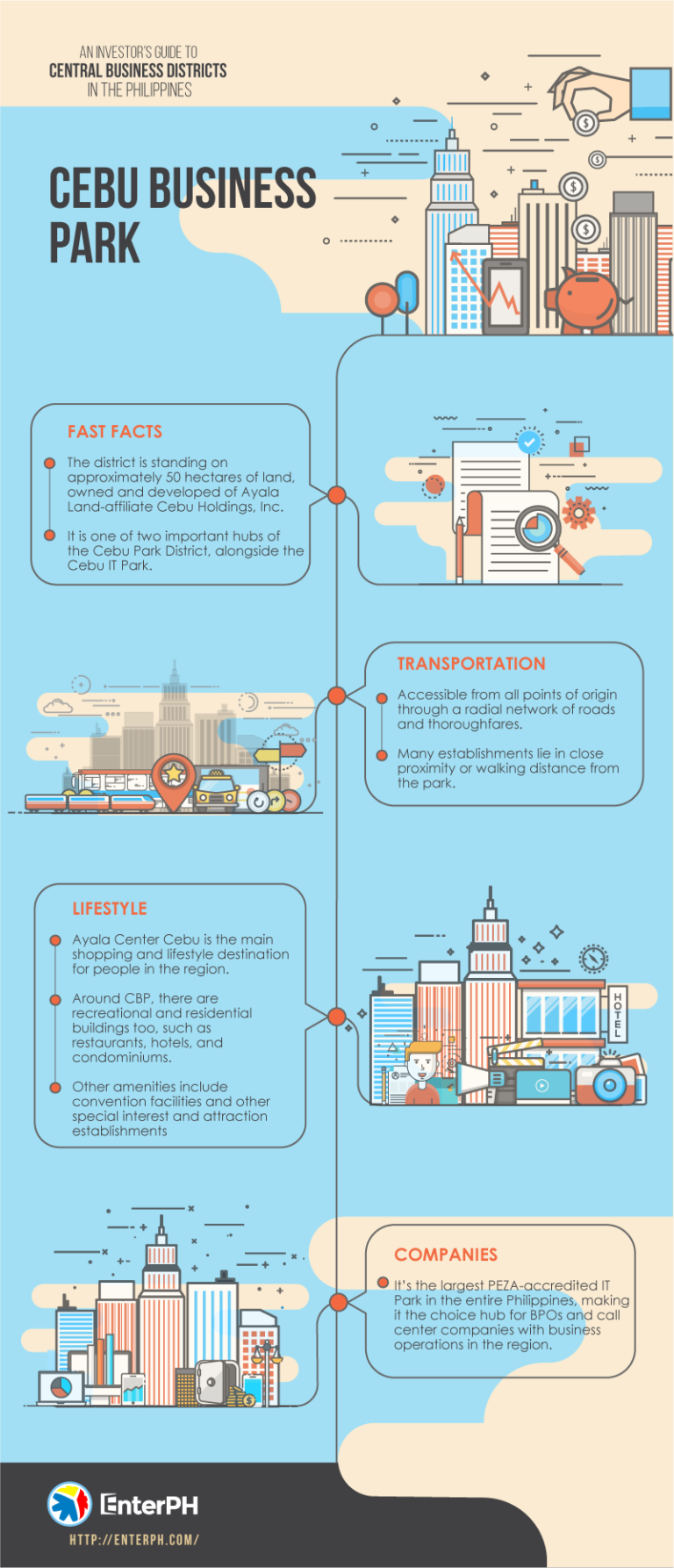 8) Downtown Davao
Downtown Davao is the location of the Davao City CBD and all the commercial offices, banks, hotels, schools, shopping malls and public markets, medical centers, and entertainment areas that operate in it.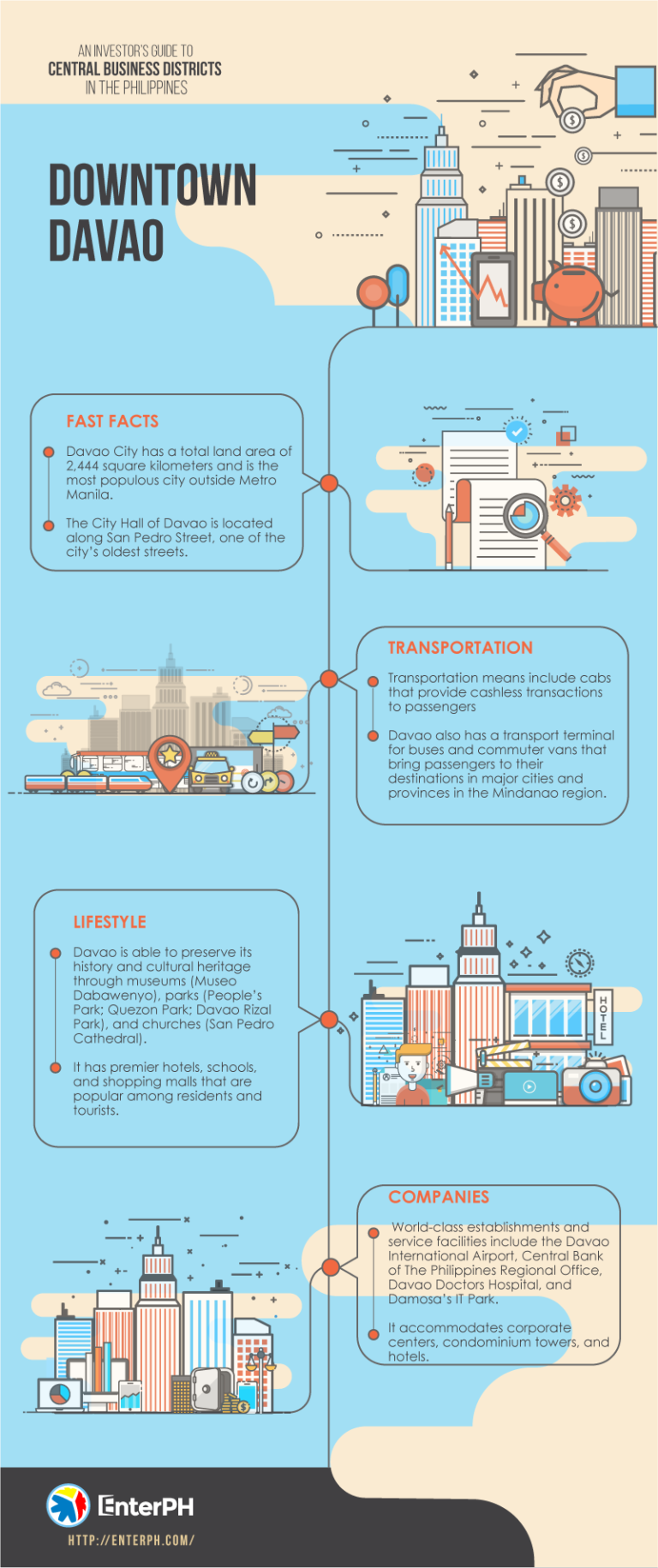 —
This is a guest post from Rocky Chan of EnterPH.com where this feature actually first appeared. Rocky is a lawyer and business consultant who excels in corporate formation, immigration procedures, and client relations. In the last 7 years, he honed his craft in the field of foreign investment consultancy.
Get more infographic by subscribing to Rock To Riches for FREE.
Rock your way to abundance!
#moneyliferocknroll
P.S. 1. Are you an OFW who's been looking for a investment placement where your money could grow higher than your time deposit accounts? Are you outside of Metro Manila and would like to start investing in mutual funds but have no personal advisors to help you out? Click here so I can help you open a mutual fund account NOW! .
P.S. 2. Here's a FREE 23-page step-by-step guide on how to make money selling e-books including which topics to write.
P.S. 3. Bro. Bo Sanchez has appointed me as a coach for our young and new investors at the TrulyRichClub social site. It's a fun, learning family with the purpose of "helping good people become rich". I'm inviting you to join the TrulyRichClub too and email me at burngutierrezblog@gmail.com if you have any questions. Click here to join!
P.S. 4. My co-author/illustrator Des Feliciano and I have just launched our "The Adventures of Pepot Kuripot and Dora Gastadora" comic book! It's arguably the first and only personal finance-influenced comic book in the Philippines. Order your copy now from our website http://pepotanddora.com and have it delivered right at your doorstep. Or you can grab your copy yourself at ilovemilktea in Las Pinas City. Now available also in Australia, Saudi Arabia, and the USA! Email des_feliciano@yahoo.com for more details.