This is a Sponsored post written by me on behalf of Personal Capital for SocialSpark. All opinions are 100% mine.
The single most important part of your financial life is knowing what you have and where it is. It seems like life has gone mobile, and your finances should be no different. Keeping tabs with all aspects of your finances is extremely important, and with Personal Capital's mobile apps, personal finances are literally at your fingertips.
The Personal Capital Application, available on iPhone, iPad and Android, allows you to access all your financial accounts in one aggregated view. User's asset growth is presented in a beautiful, concise, and clear format. Accounts from disparate investment formats (such as mutual funds, stocks, money market accounts, checking/savings) are integrated with ease. Private investment advisors are available to provide additional account management services for a low 1% fee, but the app itself is 100% free.
Although I'm not using any Apple gadget, I'm glad that Personal Capital app is now available for free to Android users like me. It has quick and easy access to information on how much money you have or you don't have at particular time. It also monitors spending using credit cards.
Definitely, Personal Capital will make it easy for me to watch over my finances from my salary to savings accounts to credit cards to my mutual fund and stock investments. Looking at how it works, I will even get to analyze and compare which investment fund can save me money by identifying the lowest mutual fund fees and charges. It is indeed a powerful and insightful tool for managing finances.
With Personal Capital, you will get to manage the following features:
Portfolio Performance – Track your investments by account, asset class or by individual security. See by yourself everything that you own and how all of these are performing. Identify the market movers and see how your portfolio compares to major indices. You control your portfolio like your own vehicle.
Asset Allocation – Are you invested in other papers assets aside from stocks? Do you have investments in mutual funds, UITF's, money market, bonds, forex, and others? Discover and manage your diversification. You'll plan well how to re-allocate your assets and next investments by finding the exact percentage of each asset class within your portfolio.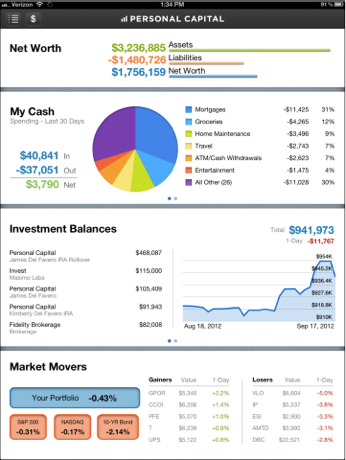 Mobile App opportunities – Monitor your finances whether you're at home, in the office, or even at the airport. Personal Capital's mobile apps make it easy to see all transactions and events wherever you are in real time.
Investment Check Up – Personal Capital has tapped financial experts to electronically identify potential investment risks within your portfolio. Determine mutual fund fees and find out if you're still on the right track with your short-term and long-term financial goals. What's great with this check up is that it's free and it only takes a few seconds of your time to receive unbiased financial advice.
401k Free Organizer – For those in the U.S. or elsewhere adopting 401K plans, find out if you're paying too much in fees. It has a benchmarking tool to determine whether your plan is Red (over 2%), Yellow (1.01%-2%); or Green (1% and below).  Personal Capital will then help you do something about it.
Mutual Fund Fee Calculator – Personal Capital's Mutual Fund Fee Calculator can show you how much investment fees could cost you over time. Instantly you will see how much your investments are costing you with all those charges and fees. Using this feature will definitely save you money.
Universal Check Up – Yes, you can send money to anyone and anywhere around the globe by just tapping on your smartphone or tablet. Easily enroll any of your checking accounts in Personal Capital's Universal Checkbook.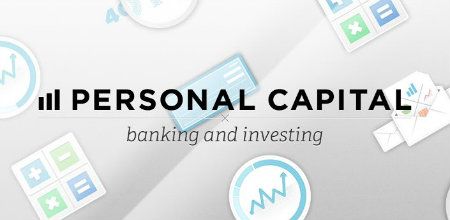 One of the best aspects Personal Capital has that I find most useful is its multi-factor authentication feature that requires you to personally approve the device you use to access Personal Capital. With the military-grade encrypted algorithms, it's easy to spot transactions that you're sure you didn't enter into. Be a fraud fighter with Personal Capital!
Personal Capital will surely help me make smarter decisions about my finances. Having a holistic view of my money will help me stay informed without having to log on to each of my banking and investment portfolio online every time.
With Personal Capital, all the savings from comparing mutual fund fees can be used to invest in other instruments. I can also choose to add this to my emergency fund.
So if you are an Apple user, I encourage you to sign up and download the Personal Capital App for your iPhone or iPads. For Android users, fret not. Because Personal Capital is compatible with Android and can also be downloaded now for FREE!
Choose from among the links for your smartphone!
iPad
iPhone
Android
Sign up now and download Personal Capital now and experience yourself how I'm able to track my income as well as my spending, and see what's my largest expenses and therefore reduce them the next time around. With its Persona Capital manager, I can easily view all my transactions for FREE.
Watch Personal Capital's video to better understand how this app can manage and improve your financial status.
Personal Capital Benefits from Personal Capital on Vimeo.